Some links may be affiliate links. I may get paid if you buy something or take an action after clicking one of these (at no cost to you).
Thanksgiving is my favorite day of the year. I look forward to it at the first hint of fall. It's a day of spending time with loved ones, turkey trotting, drinking great wine, relaxing, and, most importantly, cooking incredible food. The combination of dishes on Thanksgiving complement each other so well, and I love how the dishes are great on the big day and for several days worth of leftovers after.
The downside of eating until you wobble
Brace yourselves. The Calorie Control Council estimates the average American's Thanksgiving meal at around 3,000 calories. When you add in beverages and snacking throughout the day, this number can come closer to 4,500 calories or more. That's roughly two plus days of eating wrapped up into one magical afternoon.
I'll be the first person to say that I believe we shouldn't go overboard with restricting foods. Food is so much more than fuel. It's a form of celebration and a delicious way to bring a family together. Instead of forgoing the traditional holiday favorites, why not choose a handful of dishes and make some simple healthy Thanksgiving swaps?
Where I get the goods
I use the heck out of Thrive Market* this time of year. Fall is definitely the season where I place the most orders. Probably because I'm obsessed with their pumpkin coffee, organic pumpkin puree, pumpkin spice coffee creamer, gluten-free pumpkin bread….are you sensing a theme yet?
And the best part is that I get it delivered right to my door, stress-free, within a few days. If you're planning to make some healthy swaps but don't have full-fat coconut milk or organic pumpkin puree on hand, I highly recommend trying out Thrive Market for those items and so much more!
The Sides
Let's be honest for a second—some things you just can't substitute. Turkey and the other meats are Thanksgiving staples that cannot be changed. But the side dishes are another story. You might be able to get away with a little less butter in the mashed potatoes or potentially adding some cauliflower without anyone noticing a thing. Below are some of my favorite healthy Thanksgiving swaps for side dishes.
Sweet potato casserole
This healthier sweet potato casserole from Well Plated is gluten-free and dairy-free, and it's honestly hard to tell. It uses almond milk instead of milk and coconut oil instead of butter as the primary healthy swaps. This is hands down my favorite Thanksgiving dish, and I'm so looking forward to making it again this year!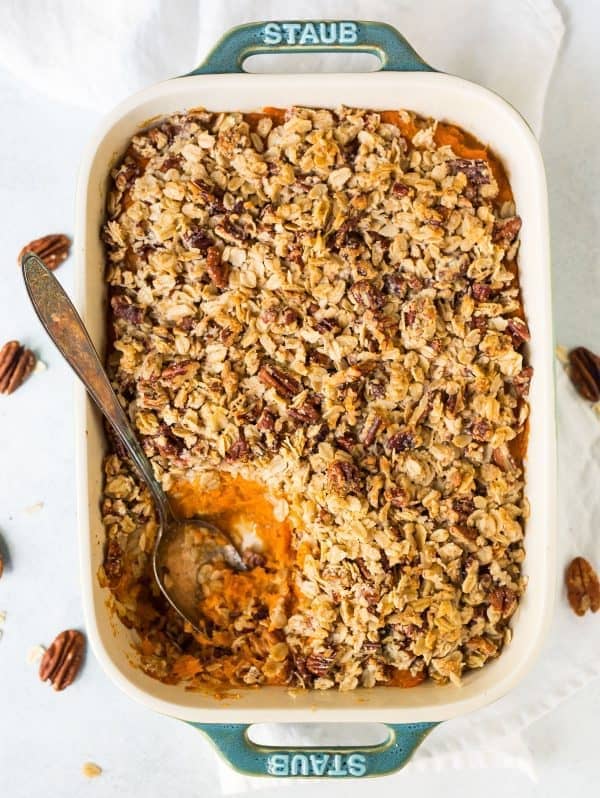 Mashed potatoes
The instant pot is a savior when you're cooking for a crowd. There is only so much oven space, so it's great to be able to break out a dish and have it cooking off to the side. These mashed potatoes and cauliflower by the natural nurturer come out as buttery and delicious as grandma's mashed potatoes, without the pounds of butter.
Green bean casserole
Green bean casserole is my brother's favorite dish. So if I mess this one up, I'm in a bad place. Luckily there are recipes like this vegan green bean casserole from Know Your Produce that everyone can agree on. Incorporating nut milk and veggie broth are a nice change from the traditional mushroom soup recipes everyone is familiar with.
Broccoli salad
I took this broccoli salad from Evolving Table to a Friendsgiving celebration last year, and it was a huge hit. You might be thinking to yourself, "it's broccoli, it's already healthy," and you're completely right. But by forgoing the cheese, bacon, and mayo-based toppings in favor of peanut butter and balsamic vinegar, this recipe really makes broccoli the star.
Gluten-free stuffing
If you have a stuffing recipe that you already know and love, sometimes simply substituting a more nutrient-dense or gluten-free bread option can make a huge difference in nutrition without making a huge difference in taste. This gluten-free stuffing recipe from Mama Knows Gluten-Free can also be made vegetarian by swapping vegetable broth for chicken broth.
Healthy Thanksgiving Dessert Swaps
Desserts are arguably the most delicious part of Thanksgiving and also single-handedly responsible for the most calories consumed. But as I am a person who firmly believes a holiday meal isn't complete without a great dessert, here are some of my favorites.
All things pumpkin
I made these pumpkin cupcakes from Mile High Mitts a few weeks ago (my Thanksgiving trial run), and they were phenomenal. With simple swaps like almond milk, gluten-free flour, and coconut oil, I didn't feel loaded up on sugar after eating one…or several. Don't judge!
These pumpkin creme bars from My Whole Food Life pull together three of my absolute favorite things: dates, pumpkin, and chocolate. They are incredible, and even though I botched the recipe on my first attempt (I dumped the whole can of coconut milk instead of reading carefully), we still ended up with a delicious ice cream treat.
Pecan pie
Thanksgiving just isn't a holiday without pecan pie. I am so excited to try this keto pecan pie recipe from Life Made Sweeter. It will be my first foray into homemade pie (pray for me), but healthy swaps like coconut milk and monk fruit sweetener have me feeling confident that it will turn out delicious!
I hope you can find some simple ways to make healthy Thanksgiving swaps this year. If you have a favorite recipe you'd like to share, I'd love to hear about it in the comments!
Like what you've read? Sign up below to make sure you never miss a post and download my weekly dinner plan printable for free!