Some links may be affiliate links. I may get paid if you buy something or take an action after clicking one of these (at no cost to you).
My husband is a big fan of Master's sandwiches. For those unfamiliar with or have never been to the Master's, it's a golf tournament that takes place every year in Augusta, Georgia. The venue is known for its most famous two sandwiches: pimento cheese and egg salad.
My Take on a Healthy Egg Salad Recipe
Since I generally let my husband handle all things pimento-cheese related, I decided to take a stab at creating a healthier version of the egg salad. As with all of the recipes I make, I try to keep ingredients to a minimum and choose only those with maximum flavor. This recipe keeps things simple with only 7 ingredients: eggs, avocado, mayo (I use avocado-oil based mayo), dijon mustard, pickle juice, lime juice, and paprika!
I love using Thrive Market* for all of my kitchen staples, especially spices and condiments, as you can tell! If your pantry needs a good re-stock with some healthy options, Thrive is the place to be. Plus, you can get 25% off your first order and a free gift when you join! Why not give it a try?
By using avocado in place of half the mayo (and using avocado-oil-based mayo instead of another seed oil), I'm maximizing the healthy fats (meaning for all you keto lovers out there, this would be a safe bet!). That plus a bit of fresh lime juice and dill pickle juice, give this egg salad an extra something-something flavor-wise that keeps you interested.
There's More Than One Way to Enjoy Healthy Egg Salad
As I mentioned, my husband is a big fan of a good old-fashioned egg salad sandwich with a bit of lettuce and tomato. But you could eat this egg salad in plenty of other ways too, including:
Over a bed of lettuce with some veggies for a more filling lunchtime salad
With crackers as an afternoon snack
Wrapped up in a tortilla for a satisfying roll-up
On some gluten-free cinnamon raisin bread with homemade sprouts (My personal favorite as seen below!)
Simple Prep for the Win
I like to make things easy on myself. There's no removing the yolks and using that separately or any other unnecessary complexity for this recipe. You boil and peel the eggs, mash and mix the ingredients, add the diced eggs, and bam, easy, healthy egg salad that you can make in under half an hour! What's not to love about that! (Not to mention, if you do this right, you only need to clean one dish! Score!)
Worth Noting
Since this healthy egg salad recipe uses avocado in addition to mayo to create the creamy deliciousness, it also means it's prone to looking a bit brown after refrigerating. That is entirely normal and nothing to worry about at all! It's the same as you'd expect if you toss a half avocado in the fridge overnight.
It takes nothing away from the flavor, and you can tightly store and eat this egg salad for 3-5 days, although in our house, it doesn't last anywhere near that long. I hope you enjoy it. Don't forget to let me know your thoughts in the comments!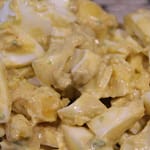 Healthy Egg Salad (with Avocado!)
Print Recipe
Healthier egg salad recipe that uses avocado and pickle juice.
Ingredients
10

eggs

I like to make sure the ones I use are cage-free and organic

1/4

cup

avocado

Approximately 1/4 of a large avocado or 1/2 of a smaller one

1/4

cup

mayo

I use an avocado-oil based mayo or veganaise

1

tsp

dijon mustard

1.5

tsp

dill pickle juice

1

tsp

lime juice

1/4

tsp

paprika
Instructions
Hard boil and peel the eggs (Place the eggs in a pan, cover with cold water, bring to a boil, pull off the burner and cover, set a timer for 10 minutes, then drain and put the eggs in an ice bath until cool enough to peel)

Mash the avocado until it's mostly smooth

Whisk in the mayo, dijon mustard, pickle juice, lime juice, and paprika until well combined

Cut eggs in half, then thirds (or smaller chunks, as desired)

Add the eggs to the dressing and stir until just combined

Refrigerate and consume within 3-5 days
Like what you've read? Sign up below to make sure you never miss a post and download my weekly dinner plan printable for free!