Some links may be affiliate links. I may get paid if you buy something or take an action after clicking one of these (at no cost to you).
I end up cooking most nights of the week in our house, and my sweet husband handles dish duty and clean up. That's the way we like it, and it works for us. But that's not to say it's always easy or fun being the chef and coming up with new and interesting healthy dinner ideas.
Y'all know I'm a huge proponent of meal planning and doing a big grocery shop on the weekend. I check what we already have on hand, then go through Pinterest, pull out what looks good, and create my list.
And after doing this for months and months, I've discovered that most weeks, we keep coming back to the same set of recipes. I'm super excited to share those with you because I know that if you try them once, they're going to be in your regular rotation too!
These healthy dinner ideas have a few amazing things in common:
They come together fast, most in 30 minutes or less.
They are plant-heavy (I was a vegan for years and have recently re-introduced eggs and fish. But most of my cooking is still plant-based.)
They have simple, real ingredients (real, whole foods for the win y'all!)
Most recipes can be pulled together using what you already have around the house (assuming you have a bit of extra produce around like me).
11 Delicious & Healthy Dinner Ideas Guaranteed to Save Mealtime
The following recipes are not only simple, nutritious, and delicious but keep my carnivore husband coming back for seconds. After cooking a meal for him, one of my favorite things is hearing the request to add the dish to next week's line up! I know you and your family will enjoy these as well.
The cauliflower and chickpea filling in these tacos from She Likes Food makes you not notice, nor care, that there's no meat. The creamy lime slaw sets off the flavor of the BBQ rub, and jalapeños on top offer a nice added kick if you're into spice like I am!

This broccoli salad from Ambitious Kitchen is unlike any that I have ever tasted. I find myself snacking on leftovers at all hours of the day. The mixture gets tossed in a peanut sauce dressing that genuinely makes this feel like a Thai dish instead of a traditional broccoli salad.

We sometimes eat this bowl by Always Nourished two times in the same week. The flavors are so light and delicious, and both the prep time and clean up are shockingly minimal.

I love to make this recipe from Wholefully and then use a slice of dairy-free pepper jack cheese on top. If I'm cooking for friends or taking food to someone, this is my go-to dish. The filling makes enough for 6 peppers (12 halves), and we've had leftovers every time we've made it.

This is another light and delicious recipe by Always Nourished that would be great for a day when you had a heavy lunch and are just looking for a little something.

This recipe by Two Peas & Their Pod is a perfect way to satiate a breakfast for dinner craving. I sometimes make one of these and use it as a breakfast leftover all week!

This casserole by Fit Foodie Finds is super simple to make and ends up giving you a ton of food! I like to make this dish on a Sunday and use it as lunch all week since it reheats well, even after a few days. While putting the casserole together is quick, you will want to allow ~1 hour in the oven .

This is my husband's favorite soup, courtesy of Gimme Some Oven. It is insanely simple to make, as you dump the ingredients into the instant pot (we have this one* and I love it!) and let it cook. The soup is chock-full of delicious veggies, and you can make it with coconut milk, which gives it a hearty flavor minus the dairy!

While more of a wintertime dish, this risotto by Savory Nothings is light enough that you can prepare it year-round. If you are a mushroom lover like me, this is one you need to try!

This dairy-free tomato soup by 40 Aprons is more delicious than any tomato bisque I have ever had from a restaurant. The recipe is super simple to make in the instant pot and goes fantastic with a grilled cheese made from gluten-free bread and Chao dairy-free cheese!

We keep the key ingredients for this dish from The Recipe Well on hand to use as our default "need a carb" dinner option. And there is nothing more amazing than only needing to clean up one pot (plus a cutting board). If you're going to make this, be sure you plan to soak your cashews! I've definitely forgotten and soaked them while gathering ingredients. But the sauce gets so much creamier when the cashews have more time to absorb!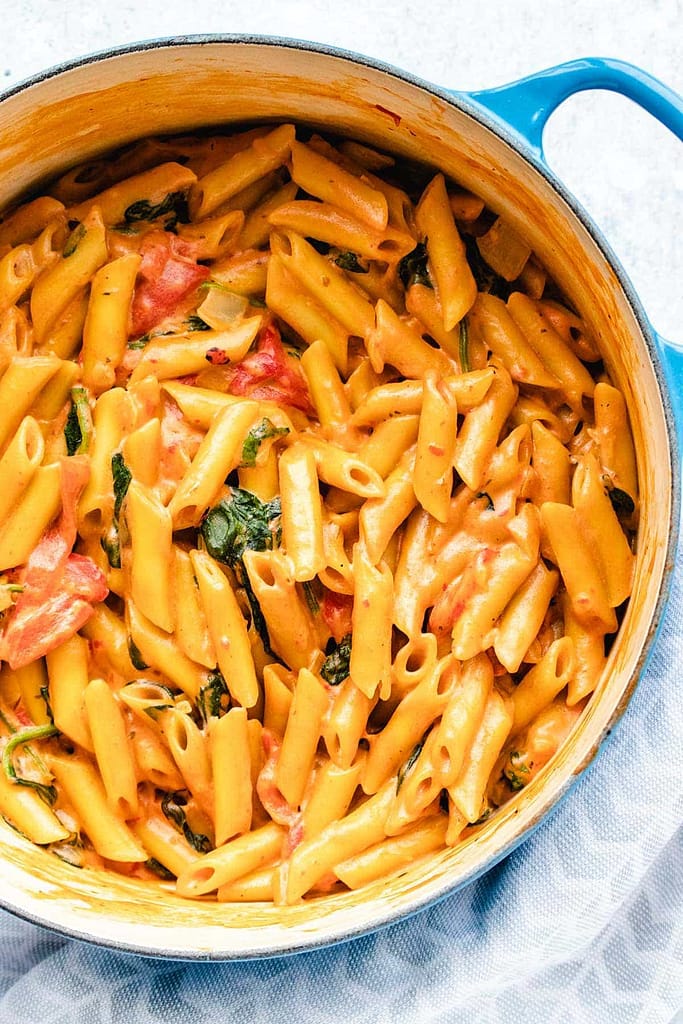 Like what you've read? Sign up below to make sure you never miss a post and download my weekly dinner plan printable for free!