Some links may be affiliate links. I may get paid if you buy something or take an action after clicking one of these (at no cost to you).
One of my small pleasures in life is a cup of tea in the afternoon. Through the seasons, even on the hottest days of summer, there is nothing better than a warm cup of tea. But what makes it extra special is when it's homemade. This ginger mint tea recipe is one of my newfound favorites. The balance of refreshing flavors mixed with the sweetness of a good honey is unparalleled.
This ginger mint tea has numerous benefits for body and mind. It also only requires four ingredients: ginger root, mint leaves, honey, and water.
The Power Couple: Ginger & Mint
Ginger has been in the spotlight in recent years for its healthful properties. Ginger root is an anti-inflammatory, which also helps to calm stomach issues, including nausea, and even aids in potentially preventing some diseases, like cardiovascular disease and even cancer. Mint is also known for its ability to soothe digestive issues and combat inflammation. The power-packed combination of these two makes this ginger mint tea an excellent choice if you're experiencing any discomfort in the gastrointestinal region.
My husband bought me an AeroGarden* for Christmas, and I'm absolutely obsessed! We now have homegrown mint in addition to other amazing spices like basil and dill! If you're into the idea of growing your own food at home, the AeroGarden is a simple way to get started!
Sweet Honey
I love raw honey as a sweetener. It's touted for being "less bad than sugar," but honey also brings a few benefits of its own to the table. Raw honey can provide antioxidants that help protect you from cell damage, offer prebiotic properties that help aid digestion, and has been shown to have anticancer properties potentially. Honey also has a lower GI value than sugar, which means it doesn't raise blood sugar levels as quickly.
I am a huge proponent of adding sweeteners yourself because it's easy to see that you don't need much to give your drink (or dish) a little added kick of sweetness. This recipe only uses 1/2 teaspoon of honey (roughly 2-3g of sugar), which has proven to be more than enough.
Kabob'ing the Ingredients
I prefer to keep my ingredients together instead of letting them float loosely in the tea. This makes the tea easier to drink and also makes it easy to stop steeping if the flavor is strong enough. I use wooden kabob sticks* from grilling, but I have my eye on these bamboo kabob skewers* that are only 6 inches and so won't stick out from the top of the teacup as much.
I hope you find this ginger mint tea recipe as soothing and delicious as I do! If you try it and love it, please tell me in the comments! Enjoy!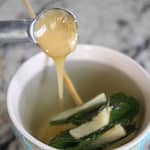 Soothing Ginger Mint Tea
Print Recipe
A delicious, homemade tea great for calming digestive issues
Ingredients
12-14

oz

water

8-12

mint leaves

1/2

tsp

raw honey

1

oz

fresh ginger root
Instructions
Put tea on to boil in a kettle

Cut off approximately 1 oz of ginger from the root and peel

Rinse ginger root (failure to do this could result in bits of ginger root floating about in your tea)

Rinse mint leaves, if necessary

Slice ginger root into 1/8 inch slices lengthwise

Add ginger root and mint leaves to bottom of kabob alternating with one piece of ginger root and 3-4 mint leaves

Add kabob to teacup and pour over water when hot

Add 1/2 tsp of honey

Steep for 8-10 minutes and enjoy!
Like what you've read? Sign up below to make sure you never miss a post and download my weekly dinner plan printable for free!